Message from Director Training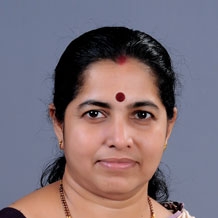 Sustainable growth of any industry can be possible only through technological advancement and innovations. In the case of rubber industry in India, the scale of operation is marginal in natural rubber (NR) production, processing and in general rubber products manufacture with the sole exception of highly capital intensive tyre sector. Hence, continually updating knowledge and skill is an essential requirement for the sustenance of these sectors.
Rubber Board has been taking earnest efforts to sustain the rubber sector through formulation and propagation of innovative, cost effective and environment friendly R&D and extension strategies in an inclusive manner. The National Institute for Rubber Training (NIRT) has been utilizing all these expertise for providing required knowledge and skill for the development and self-reliance of all links in the rubber industry value chain.
The HR requirement of rubber industry in the country is huge and is estimated to be nearly 0.5 million in the plantation sector, 0.5 million in the manufacturing sector and around 1 million in the synthetic rubber (SR)/reclaimed rubber (RR) production and other ancillary areas. Ensuring competent and skilled manpower suiting to each segment of operation is really a challenging task.  Since its establishment in 2000, the Institute has been executing various activities in this line and has contributed significantly towards technology updating, quality improvement, ancillary income generation, value addition, skill development, employment generation, empowerment of weaker communities, capacity building of clusters etc.
In our country today, rubber cultivation has been extended in 13 states and value addition through product manufacturing is highly dispersed across state and regions. The domestic rubber industry value chain has immense potential for development, opening enormous opportunities for employment generation, value addition, import substitution and export of rubber products.  
In summary, I would like to re-emphasize the critical role played by NIRT in offering a unique platform for acquiring updated knowledge and skill for self-reliance and empowerment to all stakeholders of the rubber industry in a holistic manner through collective approach on pooling the internal expertise of Rubber Board and with external support wherever required.
Smt. P. Sudha
Director Training